Cashew Chicken Recipe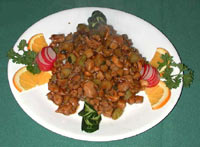 The original Chinese version would have been made with peanuts because cashew nuts do not feature in Chinese cookery. Nevertheless, this dish uses the best Chinese principles: stir-frying to seal in the juices of the chicken, and then stir-frying again with spices to flavor it.
Ingredients:
8 ounces (225 g) boneless chicken breasts, skinned and cut into 1/2 inch cubes

Marinade:
1 egg white
1 teaspoon salt
1 teaspoon
cornstarch (

corn flour

)
5 fluid ounces (150 ml) cooking oil (vegetable or peanut)
2 ounces (50 grams) cashew nuts
2 teaspoons dry sherry or rice wine
1 tablespoon light soy sauce
1 tablespoon spring onions, finely chopped as garnish (if desired)
Directions:
Add the marinade ingredients to the chicken cubes, mixing with chopsticks and adding the
cornstarch
last. Allow the chicken to marinate in the refrigerator for 15 - 20 minutes. While the chicken is marinating, mix together the dry sherry and light

soy sauce

and set aside.

Heat the wok and add oil. When the oil is ready, add the chicken cubes and stir-fry on medium heat, stirring quickly to ensure that the chicken does not stick to the wok, until it turns white. Remove the chicken from the wok and set aside.

Clean the wok with a paper towel and add one tablespoon of oil. When the oil is ready, add the cashews and stir-fry them for about 1 minute. Add the chicken, and the sherry/

soy sauce

mixture. Stir-fry the dish for about another 2 minutes. If you don't like raw spring onions, you can add them to the dish at this time. Otherwise, remove the dish from wok, garnish with spring onions, and serve.